The Roots & Boots Tour
Friday July 20
Sammy Kershaw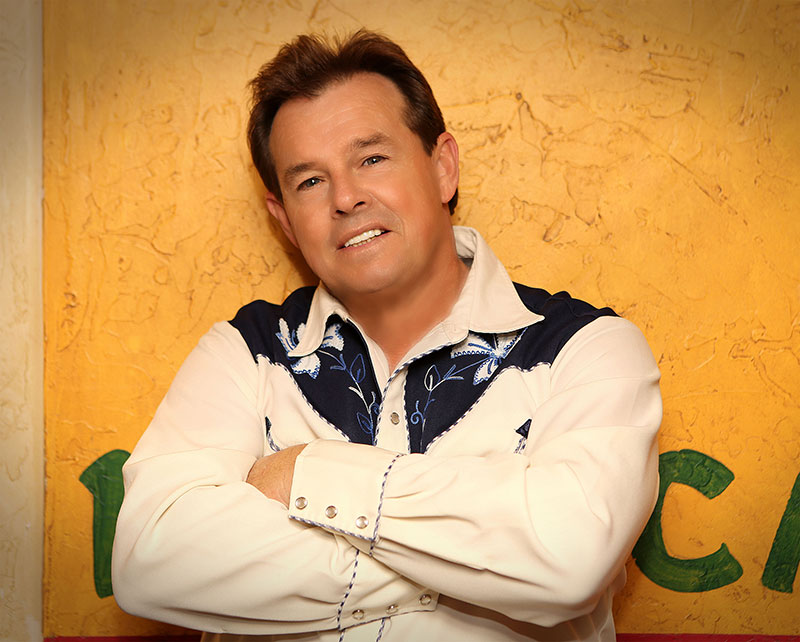 Since his debut on the music scene in the early 90's, Kershaw has remained one of the most consistent power hitters in country music—both with a chain of major hit records and sell-out touring schedules. Sammy Kershaw's plan for country music is re-claiming its roots and recapturing the spirit that made it great "Man, for someone like me who had George Jones' music imprinted in my DNA before birth, the last few years have been rough as a fan of country music," noted Kershaw candidly in a recent national interview. "Country music is not a formula…it's a music with its own soul…and I'm all about saving that soul!" Kershaw's current album "Honkytonk Boots" promises to be a much- anticipated first step in that plan of salvation. For the newest Kershaw project, the singer's soulful sound and Cajun vocal kick is teamed back-up with the genius of producer Buddy Cannon—whose efforts, like Sammy's, have lined his walls with platinum. Sammy's vibe about his latest studio venture has all the earmarks of a proud father talking about his new arrival "In music, everything is timing. I knew when we were in the studio working on the new album that we had something radio and fans are ready for…the feel of the album is a return to the kind of country music I, and a lot of other people, have missed." Powerful words from a man who has picked, written, and sung a lot of hits. Often referred to as the "heir apparent" to the legendary 'voice' himself—George Jones Sammy Kershaw helped make the '90's a shining decade for country music. It's a comparison not lost on Sammy, who grew up in the Cajun country of Louisiana on a diet of crawfish and country music. The oldest of four children, the tragic loss of his father, matured him even faster than the clubs and honky tonks he was performing in at 12 years old. He speaks openly today of years spent battling substance abuse and addictions. "It's not a period of my life I'm proud of but I do talk about it to encourage kids not to follow in my footsteps," Kershaw recently noted. Helping others is a subject close to the heart that beats within what might often appear to be a tough, macho exterior. Sammy Kershaw is, in fact, a softie when the subject turns to kids. If proof were needed it stands in his hometown of Kaplan, Louisiana. There Sammy has established the Sammy Kershaw Foundation. Its outreach has extended through donations so far of more than 2 million dollars in aid to children and child related charities. With projects that extend from granting wishes through "Make A Wish Foundation" to establishing camps for crippled children, the foundation exists to fulfill Sammy's simple goal of improving the lives of children. In the course of breaking into the ranks of stardom in country music, Sammy Kershaw has made contributions to more than just the charts. His platinum albums were propelled into the records books by hits such as "She Don't Know She's Beautiful," "I Can't Reach Her Anymore," "National Working Woman's Holiday," "Love Of My Life," "Cadillac Style," "Don't Go Near The Water," "Haunted Heart,"…and many other milestones.
Aaron Tippin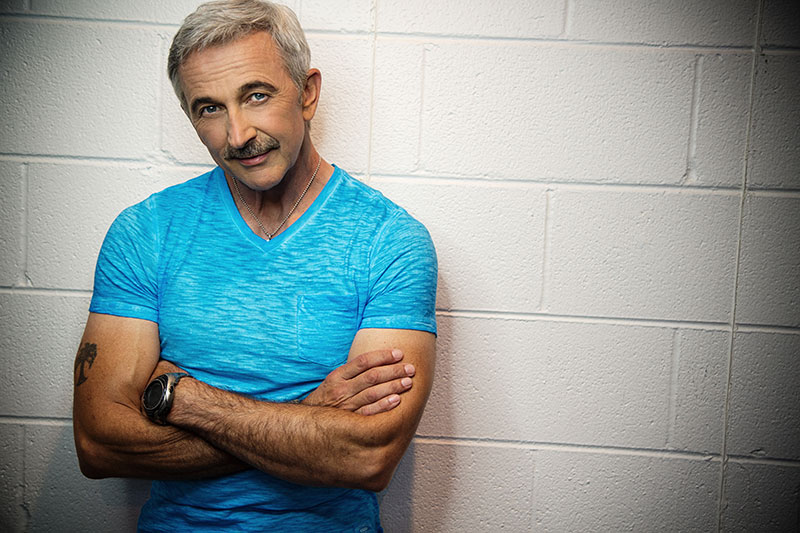 Twenty-Five years – a huge career accomplishment, especially in the music business. Aaron Tippin – who marks his silver anniversary as a recording artist this year – admits that he looks at his career longevity with a little bit of amazement.

"I think about it and go 'Wow. What am I doing still here?' I look at the flight that we took off in," referring to his fellow newcomers at the time of his career launch. "A lot of them are gone, it seems. Some quit by choice. Some ran out from under it, but to be here twenty-five years doing it, I am the luckiest hillbilly that ever lived."

Tippin says that nobody was any more surprised that he got an invitation to join the roster of Nashville powerhouse RCA back in 1990 than him. In fact, at the time he inked his deal, he had almost given up hope of success as a vocalist, concentrating on his budding career as a songwriter – with cuts from the likes of The Kingsmen, Mark Collie, and Charley Pride.
"I thought my chances were gone. I came to town when I was about twenty-five years old. I had been seriously trying to get a record deal for about three or four years. I just thought 'Man, this ain't gonna happen.' I really had settled into songwriting, and my songs started to get recognized. One of the gals down at RCA – Mary Martin heard me singing my demos. She said 'Who is that?' They said, 'That's that Tippin guy down there who writes for Acuff / Rose – the muscle guy.' She said 'That's hillbilly. That's country. Let me hear what else he's got. I want to meet him."
Aaron recalls that walking into the RCA office to meet with label head Joe Galante definitely had a magical vibe, as well it should. "The label was on fire. Clint Black was on top of the charts, along with the Judds and Keith Whitley. What a great team to fall into there. I'm so thankful that Joe took a chance on me. It sure worked out, and I had a great run there. I remember when he sent me my plastic Nipper dog and my Varsity Jacket. I couldn't believe it."
He also couldn't believe that his first single, "You've Got To Stand For Something," hit the Billboard Country Singles chart – eventually peaking at # 6. The success of that record also brought him a career opportunity that completely blew his mind. "When the song started to get played in Los Angeles, we got a call from Bob Hope's daughter Linda. She heard the song, and asked if I'd be interested in going over and entertaining the troops. It didn't take him long to give her an answer. "I said 'Are you kidding me? Bob Hope? I never in a zillion years dreamed I would be on the Bob Hope show."
And, just like that, Aaron Tippin was off to the races. The hits continued to pile up – "There Ain't Nothin' Wrong With The Radio," "My Blue Angel," and "Workin' Man's PhD," among them. He was building his brand on songs that touched a nerve with his blue-collar audience – and that one of a kind vocal style that definitely was Country. "You either liked it or you hated it. I is what I is," he says with a smile. "I think several times during my record career, we tried to change and follow trends and stuff. But, it never seemed to work for me. The most success I had in the business was with songs that I crafted. I'm very proud of that. I think it makes a fan able to identify with me easier because these songs are about me – my life, who I am, and how I was raised. I tell people I get recognized a whole lot faster in a truck stop than I do in my tuxedo walking into the back of the Opry. You better check my credentials when I have a tuxedo on, because it don't look right."
That's not to say that Tippin was a one-trick pony. His 1995 smash "That's As Close As I'll Get To Loving You" showcased a more dramatic side to his vocal approach, something that continued into his next label affiliation – as the flagship artist for Lyric Street Records.
"Everybody saw that with 'That's As Close As I'll Get To Loving You' that I could do other things. So, when they were pitching songs to Aaron Tippin, it was with a lot broader range. A lot of times, it would be songs that I particularly couldn't write. It was a new place for my career, and to kick things off at a new label – I think it was a big success," he recalls of "For You I Will," his debut single for the label.
Signing with Lyric Street was like a family reunion for Tippin, with many people he had worked with before – such as Greg McCarn, Randy Goodman,Doug Howard, and Kevin Herring, as well as promotional guru Dale Turner – who had helped to build the Tippin brand at RCA. "I was happy to be one of the first people they signed. I enjoyed my time there as well."
Another important piece of the Tippin story is his wife – and business partner Thea. "She is as much Aaron Tippin as I am," he says. "She's only six months behind me in my record deal. I signed with RCA, and then six months later, I signed with Narvel Blackstock and Trey Turner. She was Trey's assistant, so she started working the Aaron Tippin career six months after it started. She's got as much stake in this game as I do. She saw me at my lowest days, stood right there and stayed – even when things weren't great, and I wasn't having hit records. She listened to me whine all through it all. I owe her everything." It's not just his 25th anniversary as a recording artist in 2015 that Tippin is celebrating, but also his and Thea's 20 th anniversary as husband and wife, as well. Family is the center of Tippin's universe – with two teenage sons, Ted and Tom, a grown daughter, Charla, and a granddaughter.
As the new millennium dawned, Tippin returned to the top of the charts with "Where The Stars And Stripes And Eagle Fly," a song that became part of the American soundtrack during the aftermath of 9/11. "I wanted to talk to Americans about who we are at heart, and the fact that when the going gets tough, that's when we really stand up. We may have a lot of differences when everything is calm and fine, but when it hits the fan, I think we're the best in the world at sticking together, and rallying around the cause. That song served that purpose very well. I wanted us to be proud as Americans, and get back on with living free."
In the past decade, Tippin has recorded several musically diverse projects – including a well received 2009 truck driving album, In Overdrive. He also partnered with restaurant chain Cracker Barrel for the release HeBelieved. To celebrate his 25 th anniversary makingrecords, he plans to celebrate in a big way. "We're looking at putting together a project that has ten old songs, ten new ones, and five recordings that you never thought you would hear Aaron Tippin do. We'll probably do some big band stuff, like "The Way You Look Tonight" that's a song I love. Thea and I love Frank Sinatra, Dean Martin, and Tony Bennett. Her dad was a jazz and big band guy. That was our dance song at the wedding. I would also love to do a little bit of bluegrass – most people probably don't know that I came from bluegrass back in Traveler's Rest, SC, where I grew up. Nobody's ever heard me do any Gospel, so this gives me a chance to do that. I grew up in the south, so southern rock is big in my world. I'd like to take a shot at some of that. I don't know what the fifth cut is going to be. We've got the hits cut, and we're fine tuning the new ones. We just want to make sure that it's everything I want it to be, It's important to me, because I don't know if I will make fifty years or not!"
And, of course, another place where Aaron Tippin will be celebrating such a notable milestone is on the road. The singer still delights in that hour and a half performing on the stage – and those who come out to see him. But don't call them "fans" – he thinks of them as family. "They have been so great to me over the years, and they're still coming out to the shows. That's why I still sign autographs every night. I just want to get out there and shake their hand and give them a big hug – just to say thank you.
They're not strangers anymore – they've been coming for twenty five years." Along with the new music to celebrate 25 years, Aaron has partnered with Stonehaus Winery to produce "Aaron Tippin Country Jam". It's a Barrel Selected Blackberry wine. "Winemaking has always been a passion of mine so I'm so excited about this new venture".
The Aaron Tippin 25 th Anniversary Celebration promises to be an unforgettable year of music and fun – After all, he 'wouldn't have it any other way,' would he?
Collin Raye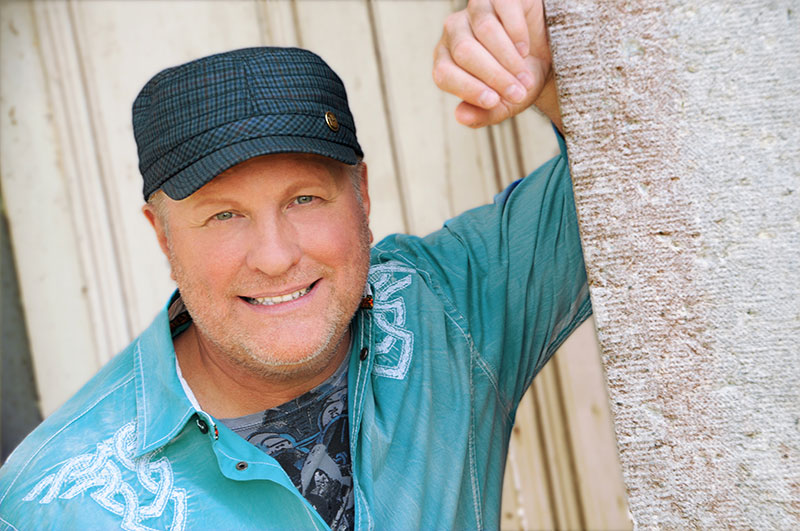 Collin Raye, born Floyd Elliot Wray on August 22, 1960 in De Queens, Arkansas, country artist Collin Raye was one of the true hit makers of the 1990's. Collin still continues to crank out soulful, heartfelt material with the honesty and richness that is signature to his vocals alone. With 24 top ten records, 16 #1 hits, and having been a 10 time male vocalist of the year nominee (5 CMA and 5 ACM), this truly electrifying performer of his era remains one of the great voices of our time. Collin Raye is nothing if not passionate. His soulful delivery has set country standards in such searing ballads as "Love, Me," "In This Life," "Not That Different" and "If I were you". Always an energizing showman, he has also blazed through such vivid rockers as "My Kind of Girl," "That's My Story," "I Can Still Feel You" and "I Want You Bad." Collin shot to fame with "Love, Me" in 1991. Listeners were so moved by this golden and pure voice that this song set the cornerstone for a career built on meaningful and emotional songs that have often been used for weddings, anniversaries, memorial services and funerals. When "Little Rock", an anthem for those struggling with addiction recovery, hit the chart in 1994, its video led to over 100,000 phone calls to Alcoholics Anonymous from folks seeking help in their addictions. "Not That Different" was a song that pleaded for tolerance. "In This Life" became a wedding favorite, and "I Think About You" won awards for its song and video which exposed the exploitation of women and children.
Collin Raye has consistently used his stardom to advance social causes. Among the organizations he has supported are Boys Town, First Steps, Al-Anon, Special Olympics, Country Cares About AIDS, Catholic Relief Services, Parade of Pennies, Vanderbilt Children's Hospital, The Tennessee Task Force Against Domestic Violence, The Emily Harrison Foundation, Childhelp USA, Silent Witness National Initiative, Easter Seals, The Life and Hope Network, and Make a Difference Day. It came as no surprise when in 2001 at the Country Radio Seminar, Clint Black presented Collin Raye with the organization's Humanitarian of the Year award in recognition of Collin's issue-oriented music and his tireless charity work.
The man who has topped the charts with such great songs as "On the Verge," "One Boy, One Girl," "What the Heart Wants," "Every Second", "That Was a River", "Anyone Else", and "If I were you" continues to touch hearts across the globe in both traditional and new ways . Collin Raye's new outreach is very personal. In 2010, after the loss of his precious 10 year old grandchild, Haley, Collin and his daughter Britanny (Haley's mother) established The Haley Bell Blessed Chair Foundation to honor her memory. The Foundation supports and assists families of the cognitively and physically disabled with a primary emphasis on supplying wheelchairs and other necessary medical equipment to elevate the quality of life for the disabled family member in need. Collin wrote a very special song for Haley called, "She's with me", which carries a powerful message for families of special needs children. Additionally, in 2011 Collin released his first inspirational album, His Love Remains, which quickly shot to #1 on Amazon for inspirational and religious music. Collin continues to perform his traditional country music across America and abroad and has added Christian and Catholic concerts to his tour schedule as well.
His autobiography, That's My Story: The Undefeated Life of Collin Raye, released in 2014. He currently resides in Nashville, TN with his daughter, Britanny and granddaughter, Mattie.