Invest In The Future Of Our Fair
Investing in our youth. Preserving our past. Impacting our present and future.
As of mid-August 2019 we are at $805,000.00 of our $1.2 million goal of needed funds to start the renovation of the Convention Center. So close to making this dream come true!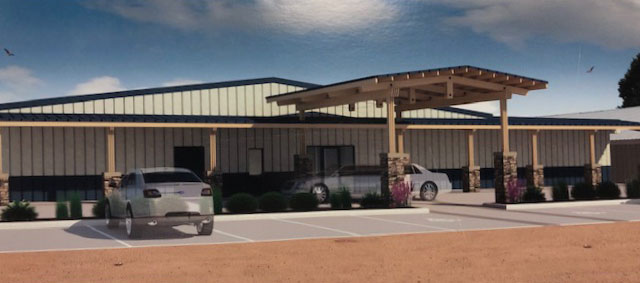 Over the years the fair board and community have noticed the Convention Center is dated and the interior is deteriorating. It is a necessity for this building to be restored, it is the main revenue stream for the Franklin County Fairgrounds. During the fair it serves as the 4H building and showcases open class exhibits. In the event of inclement weather, it serves to hold Queen Coronation and Little Miss and Little Princess Coronation. The building also contains the main fair office and restrooms for fairgoers. During the year it serves the Franklin County community, surrounding counties and northern Iowa as an affordable venue for celebrations, weddings, festivals, fundraisers and banquets. Due to the size of the building it provides the hard-to-find space needed to pull off a large-scale event. In 2017, the convention center provided space for 15 weddings, numerous graduations and multi-cultural celebrations, and 19 community organization and business events. These include the Tall Corn FFA Banquet and 4-H Awards & Recognition night, two major festivals that drew visitors from throughout the United States. In 2018 through 2019 we have seen an increase in bookings for all event types. The building is a necessity for both our county and the surrounding counties. We need to renovate so the legacy of important and special events can continue to be held here for generations to come.
The renovation project will include a remodel of the current footprint, which will include three meeting rooms to accommodate various group sizes. In addition, a small meeting/board room with a restroom and kitchenette will be constructed. On the southeast corner of the building a 28'X56' storage area will be added. New interior wall coverings, ceiling renovation, lighting and floor detailing will be included. The existing office space will have improved functionality. The current restrooms and foyer will be upgraded as will the audiovisual technology. The exterior will see an addition of a covered and paved drop off area at the west entrance. The north side will see a walkway with overhang enhancement and the buildings appearance will be enhanced with addition of rock/bricks to the walls.
Preplanning for this campaign began in the spring of 2017 when a task force comprised of five fair board members met to explore and research the options for remodeling the existing convention center and/or building a new structure. Our goal was to formulate viable options for the use of the existing buildings on the fairgrounds to accommodate long term needs. In January of 2017, this group and their spouses visited six fairgrounds with convention centers to gain information, gather data and view a variety of facilities in communities with similar demographics. After initial meetings with WWA Architecture + Planning, and comparing renovation costs to new building, it was voted on by the Board to pursue renovating the convention center. A Strategic Long Range Plan was drafted that included three phases of capital improvements to the fairgrounds. Phase 1: Renovation of the convention center; Phase 2: Building of an Agriculture Learning Center; Phase 3: Replacement of the livestock show arena. In March of 2018, at the Annual Dinner Dance, the Board unveiled the Strategic Long Range Plan and kicked off the Capital Fundraising Campaign. Due to damage to the show arena and its integrity being compromised, the decision was made to demolish the existing arena, thus pushing the replacement of the arena to Phase 2. The Fundraising Committee continues to meet on a regular basis to update fundraising activities, collaborate on opportunities, pursue grant opportunities and plan for special meetings with businesses and organizations.
Please consider being part of this campaign by offering a donation and leaving a legacy of a renovated destination for our communities' special event space and community gatherings.
Many donations options are available, all are greatly appreciated! Cash, transferrable commodities and in-kind gifts are all welcome.
Major donors of $2,500 or more will be given special recognition on a permanent Donor Wall in the entrance of the renovated Convention Center.
3-year multiyear pledge terms available, please contact us.
All transactions will be handled through the Franklin County Fair Foundation 501(c) (3)
Thank you for your time and consideration in giving and being part of the legacy! Donations are accepted through this website or can be mailed to Franklin County Fair Foundation ( checks payable to Franklin County Fair Foundation) PO Box 442 Hampton Iowa 50441
Call the fair office at 641-456-2049 with any questions!
Please fill out and submit the form below to send us a donation.
Campaign Sharing
Campaign Progress
Goal: $1,200,000
$1,005,835
| | | | |
| --- | --- | --- | --- |
| $0 | $300,000 | $600,000 | $900,000 |
(The thermometer will update every 30 seconds, there is no need to refresh the page.)
Recent Support
# 1 -

$100


February 9th, 2021
# 2 -

$20


January 26th, 2021
# 3 -

$50


January 24th, 2021
# 4 -

$30


January 23rd, 2021
# 5 -

$200,000


September 16th, 2019
$200k grant awarded by the Enhance Iowa Board!
# 6 -

$2,500


July 30th, 2019
There's no better place to make this donation. Thanks for a wonderful everything!
(Recent donations will not live update. To update the donations history, please refresh this page)